Nissan All-New Qashqai Revealed

More than three million Qashqai have been sold in Europe since the original, pioneering crossover, was first revealed in 2007. Redefining what a C-segment car could be, the original Qashqai was an instant success and created a whole new sales segment that has grown rapidly in recent years as customers embrace the desirable combination of an SUV-like high driving position and premium features, with the practicality and efficiency of a traditional hatchback.
From unique beginnings, the crossover segment has attracted numerous imitators, with the current Qashqai now competing against 26 rivals.
We are therefore delighted to confirm that the first details of the all-new, third generation of this iconic crossover will be revealed today at 09.00.
Final preparations are now well under way for the new car's launch in 2021, with prototypes now completing testing on European roads.
For this new iteration, Nissan has retained the guiding principles that have driven the concept, design and development of the two previous generations of Qashqai: elegant design, enhanced packaging and advanced powertrain, combined with elevated quality and a driving experience from a higher segment. The new Qashqai will again raise the bar in the crossover segment.
Featuring an all-new Alliance CMF-C platform, dynamic design and cutting-edge technology, the all-new Qashqai will build on the position it has held in Europe since 2007 - as pioneer and benchmark in the medium-crossover segment.
Like its predecessors, the styling of the new Qashqai was led by the team at Nissan Design Europe, based in central London (UK), while its engineering was led by Nissan Technical Centre Europe, situated in Cranfield, Bedfordshire (UK).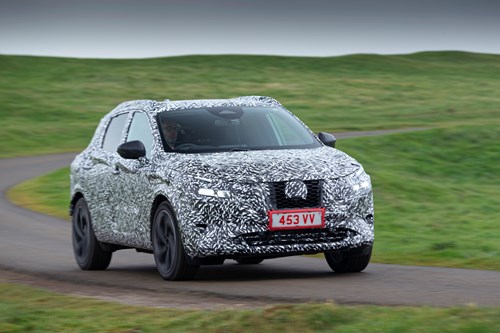 Got a question? - click below and a member of our friendly sales or service team will get back to you.