+ SUSTAINABLE

Live the experience of driving a 100% electric vehicle
+ FREEDOM

Range of up to 254 miles (WLTP combined cycle)
+ FAST CHARGING

Rapid charge from 20% capacity to 80% in under 30 mins (with 100kW DC charger)
+ TECHNOLOGY

State-of-the-art technology for your safety and comfort
500 + 100 = THE PERFECT FORMULA FOR YOU! ​
Get on board the new Fiat 600e and experience the advantages of having a plus in your driving style. In the new 600e you will have +space, +comfort, +versatility, +features, +dolcevita and, of course, +freedom, with a range of up to 254 miles (WLTP combined cycle). Add this plus into your life: jump into the new Fiat 600e and get to know the +100 extra features it brings.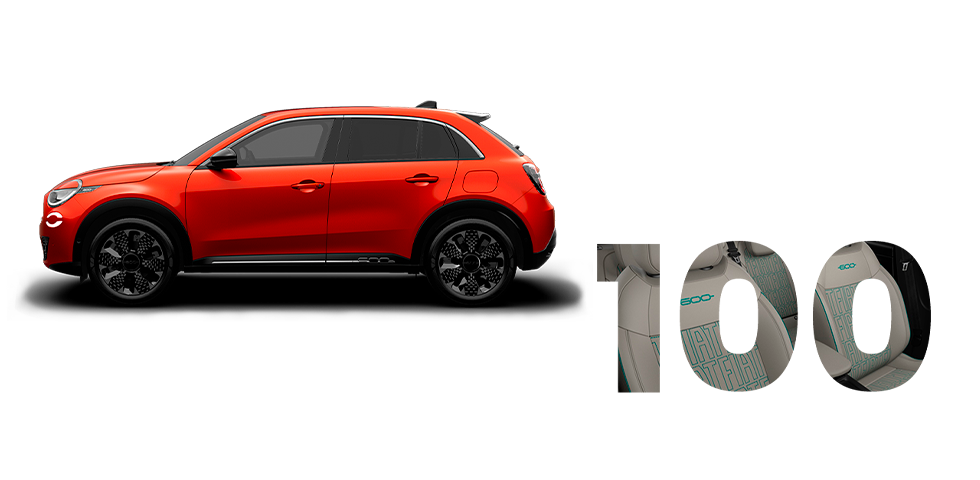 The new 600e is imposing and striking with ts captivating look. It's guaranteed to turn heads.

Light up your surroundings with your presence and the front and rear LED lights of your new 600e.


With the new 600e, you don't have to take your keys out of your pocket: with its proximity sensor, the car will recognize you as you are approaching or moving away from it, opening or closing it. Available for the La Prima version only.

With the new 600e you can travel endlessly without getting tired thanks to the driver's massage seat. Adjust and heat the seat as you like to get the comfort you  need. Available for the La Prima version only.

All the seats of the new 600e are embroidered with the latest evolution of the Fiat monogram. (RED) seats are made of recycled fabric, while La Prima is equipped with full synthetic leather upholstery.

Inside the new 600e, you will have the possibility to store up to 15L of cargo in its smart central tunnel. It is modular, practical and spacious, helping you to find a place for all your personal belongings.

The new 600e is a very roomy vehicle. On board you'll find a great space for your family and friends, including everyone's luggage – it can carry up to 360L.
The new 600e comes with diamond cut 18'' alloy wheels that will enhance its figure even more. Available for the La Prima version only. 

To be able to look forward, you need to have a point of reference in the past. This is why the new 600e takes the classic Fiat 600 model from 1955 as a reference.


500+100 TECH
To enhance your safety on journeys, we've created an even safer security system. The new 600e La Prima, comes with Drive Assist as standard (Level 2 Assisted Driving), which means a superior level of safety and assistance when driving.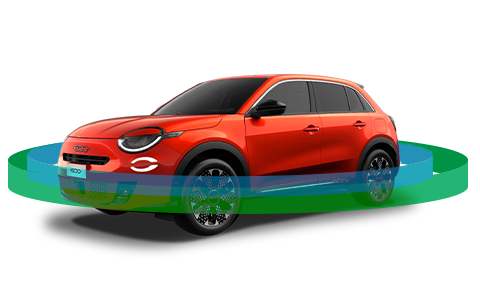 360° PROTECTION
Increase your visibility when changing lanes, parking and manoeuvring. With our 360° sensors you will have multiple inputs from multiple directions for unprecedented coverage and to avoid any kind of collision. Available for the La Prima version only.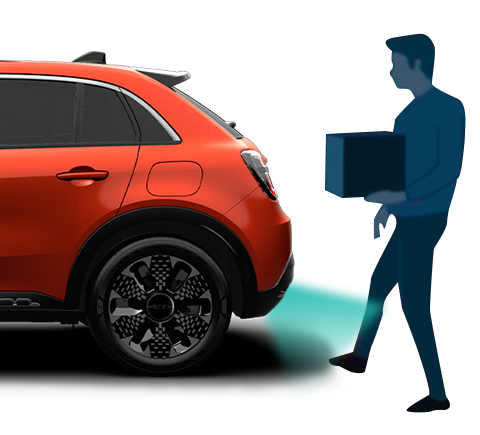 HANDSFREE TAILGATE
An innovation never seen before on a Fiat, now you can open and close the boot of your new 600e with a simple movement of your foot. Available for the La Prima version only.
BLIND SPOT DETECTION
The system will warn you if another vehicle is near your vehicle's blind spot zones. Available for the La Prima version only.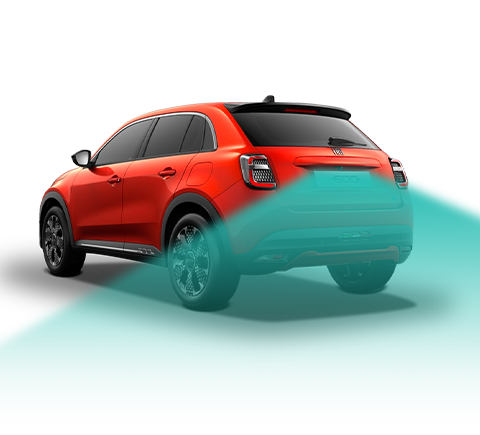 180° REARVIEW CAMERA
The new Fiat 600e is equipped with a rear parking camera with a 180° view that will help you to perform even the most complex manoeuvres. Available for the La Prima version only.
(600E)RED
600 new ways of helping people. The new (600e) comes with all the iconic RED features – and purpose. Plus, the choice of 3 colours.
DISCOVER (RED)
(RED) and Fiat: a unique partnership that provides support in health emergencies and, more generally, pandemics.  Fiat makes a contribution with every purchase of a new (600e)RED, creating the most ethical and relevant series. (RED) is an organization that fights global health emergencies like AIDS and COVID: every time you buy a (RED) product, your purchase triggers a donation to the Global Fund to support a range of prevention, treatment, counselling, testing, education and care services to the communities most in need. That's why we've proudly joined this experience and created the new (600e)RED: to let you be part of it. Fiat, Jeep and RAM have committed, through the partnership with (RED), and through it, to donate a minimum of 4 million dollars to The Global Fund between 2021 and 2023 to help fight health emergencies like COVID-19 and AIDS. Each (FIAT)RED vehicle is a (RED) product and is part of this commitment.
 ​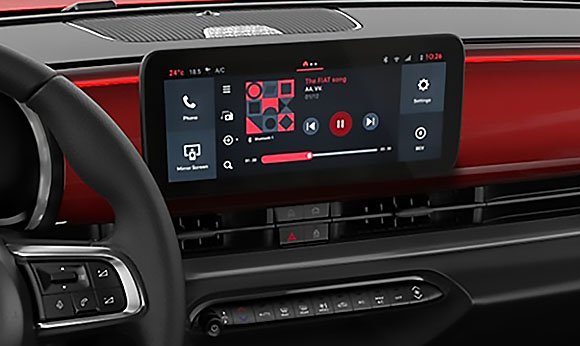 10.25 INCH TOUCHSCREEN
Enjoy your favourite songs, connect with your phone and make or receive calls from your best friends on the 10.25'' touchscreen with customizable graphics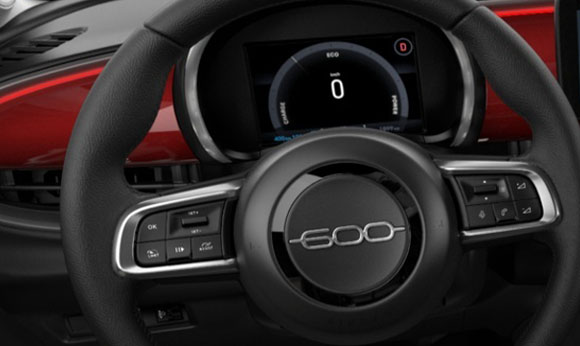 WELCOME SOUND
There's nothing better than receiving a warm hello when you enter a place, even in your car! Your new 600e will always welcome you and say goodbye.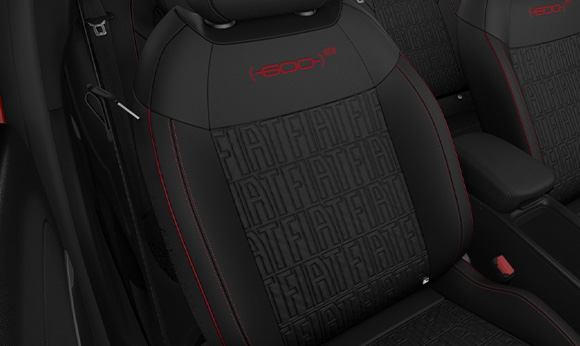 (RED)DETAILS
In addition to unique colours and the (RED) logo, you'll have seats covered with recycled black fabric.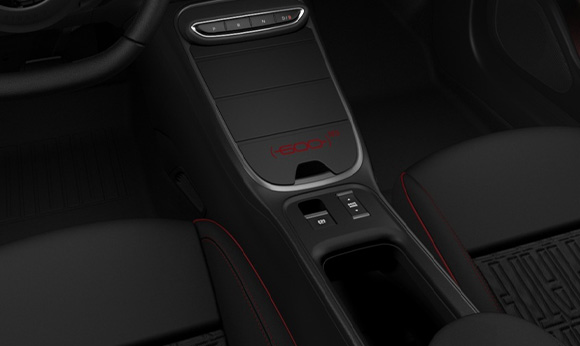 MORE SPACE
We want to increase your comfort and thanks to the innovative smart central tunnel with personalized (RED) pad cover we can do just that. In it you can carry up to 15L of items and organize all your personal belongings.
LA PRIMA
Enjoy the sweet Italian lifestyle inside new Fiat 600e La Prima and discover the true concept of Dolcevita.
DISCOVER LA PRIMA
As the flagship model in the range, the new Fiat 600e arrives with up to 100 exclusive and unprecedented features. Its great versatility ensures that it combines the best in comfort, technology and style.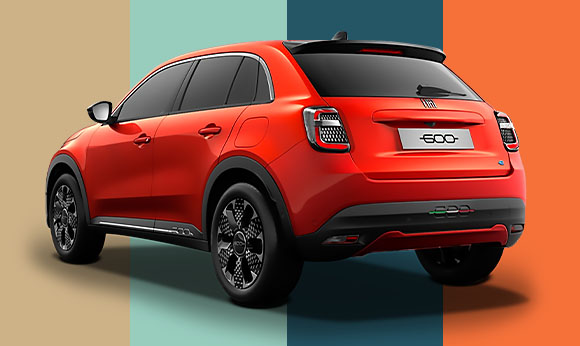 COLOURS OF NATURE
The new Fiat 600e is a joyful vehicle, inside and out , you will have 4 bodypaint colour options to choose from, all inspired by Italian nature!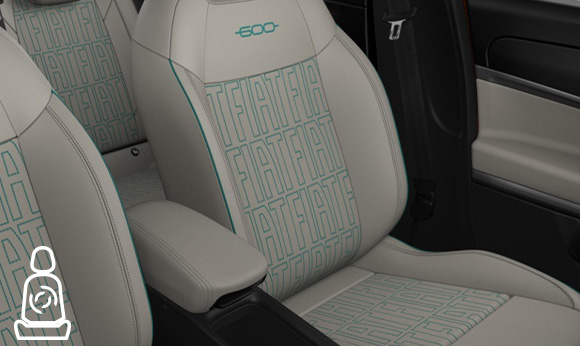 RELAXED DRIVE
Your well-being is a priority: just one click and you'll be able to drive with more ease and have a chance to relax thanks to the driver's seat massage function. Plus, with a simple movement of your foot you can open the boot, thanks to its handsfree tailgate sensors.
SAFETY FEATURES
To enhance your well-being, we place safety above all else! Your new Fiat 600e La Prima comes with state-of-the-art safety tech features: a Level 2 Assisted Driving system, offering a greater level of safety during your journey.
CONNECTIVITY
STEP INTO THE WORLD OF CONNECTED VEHICLES!
A world that allows you to exchange data via the internet with the FIAT smartphone app. Benefit from valuable advice provided by your brand and enjoy more safety, comfort and pleasure with the latest infotainment features, while saving time and money. Because your security and comfort is our priority, our Connected Services  offer of is now simplified with the choice of two new packs.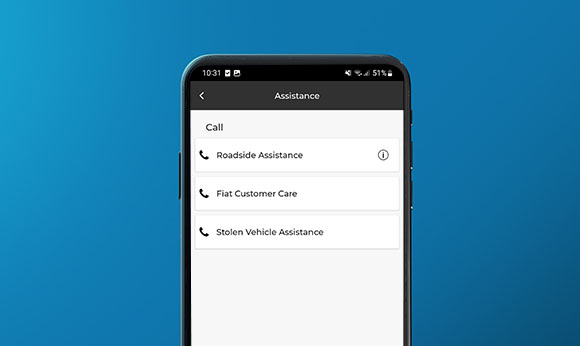 CONNECT ONE : HELP ALWAYS AT HAND
On board your vehicle, you're protected wherever you go. Your new Fiat 600e is able to make emergency calls using the ceiling mounted SOS button*, as well as enabling you to contact a dedicated assistant or request roadside assistance
* Emergency call is not available from the vehicle's touch screen or from the FIAT App.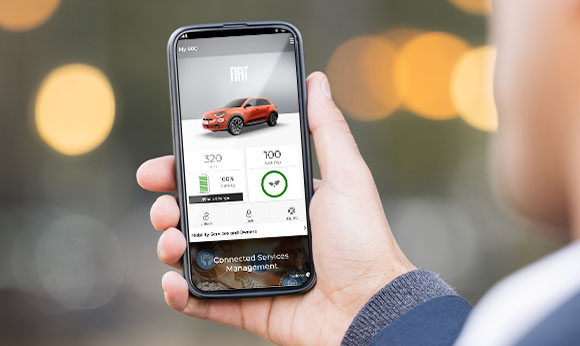 CONNECT PLUS : ENJOY EVERY RIDE IN COMFORT
With the new Connect PLUS pack*, you can take control of your car like never before, thanks to a range of innovative features that offer remote vehicle access; charging management; the possibility of receiving notifications on the vehicle's health; planning trips in electric cars; access to navigation, and many other services. Dive deeper into Connect Plus and discover the services available to you.
*Only available once the CONNECT ONE pack has been selected.