500L Urban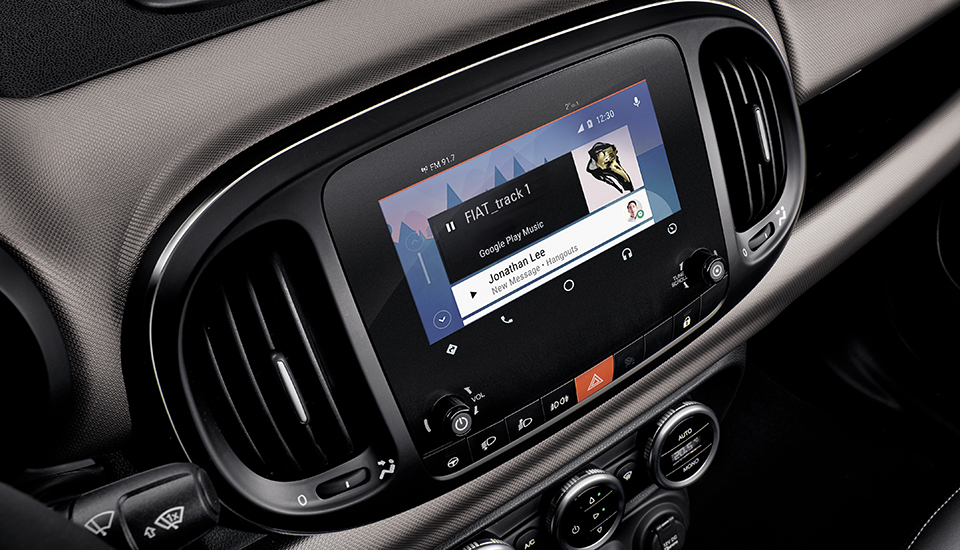 Android Auto™
The 500L Urban is compatible with Android Auto
™
. Android Auto
™
simplifies access to your content and apps while you're driving without putting your safety at risk. Your apps will appear on the screen of your 500L, thanks to the simple, intuitive interface, organised into easy-to-read pages. With Google Maps, you get traffic bulletins and a whole lot more in real time, and with the best hands-free technology, you can make calls and send and receive messages without taking your hands off the wheel.
To find out which devices are compatible,
click here
.
Android, Android Auto™, Google Play and other brands are registered trade marks of Google Inc.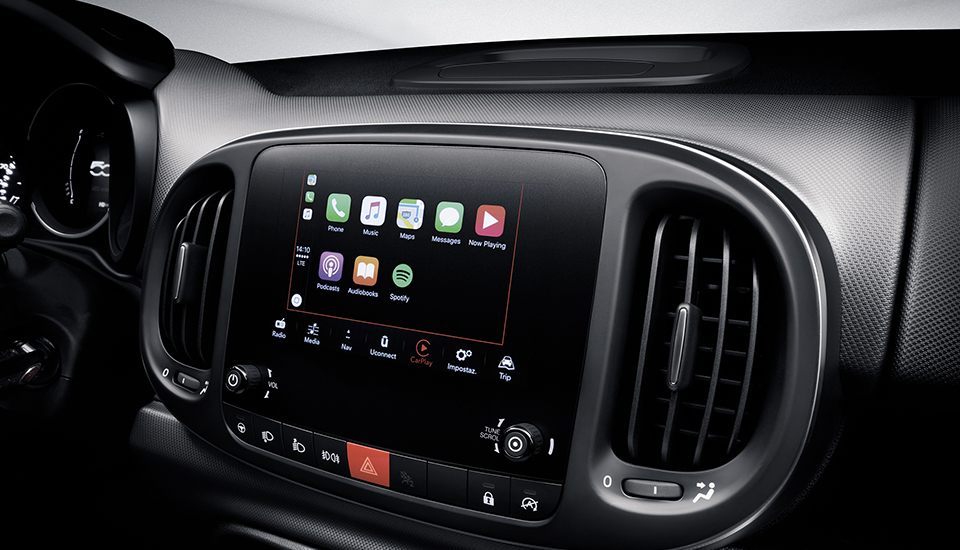 Apple CarPlay
The 500L Urban works with Apple CarPlay. Apple CarPlay is the smartest and safest way to use you iPhone in the car. Thanks to the main apps and functions developed specifically for CarPlay on your 500L's screen, you can get traffic bulletins, make phone calls, send and receive text messages and listen to music without taking your attention off the road. With Siri, you can use voice commands to manage the main functions of your smartphone, or use the touchscreen or steering-wheel-mounted controls.
To find out which devices are compatible,
click here
.
CarPlay, iPhone and Siri are registered trade marks of Apple Inc.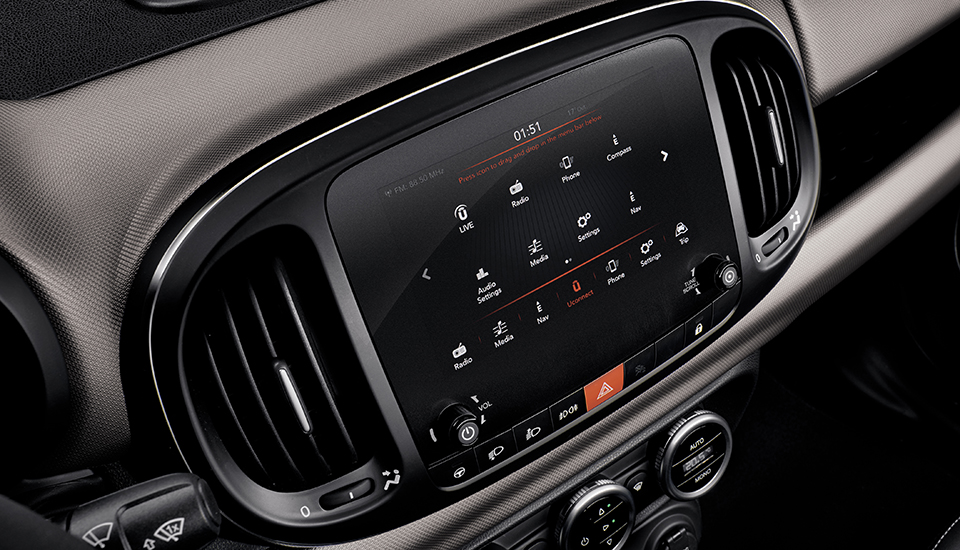 Uconnect™ LIVE
Love technology? Then you'll love Uconnect™ LIVE. Connect your smartphone and use the numerous apps on the in-car system, such as
eco:Drive to monitor your driving style and help you improve your fuel economy.
my:Car: to monitor the condition of your car via your smartphone and to remind you where you have parked. Including Facebook check-in and Twitter Or listen to a choice of over 43 million tracks on Deezer or over 100 million radio stations on TuneIn, follow the news in real time on Reuters and get traffic information and weather forecasts from TomTom Live services. What more could you want?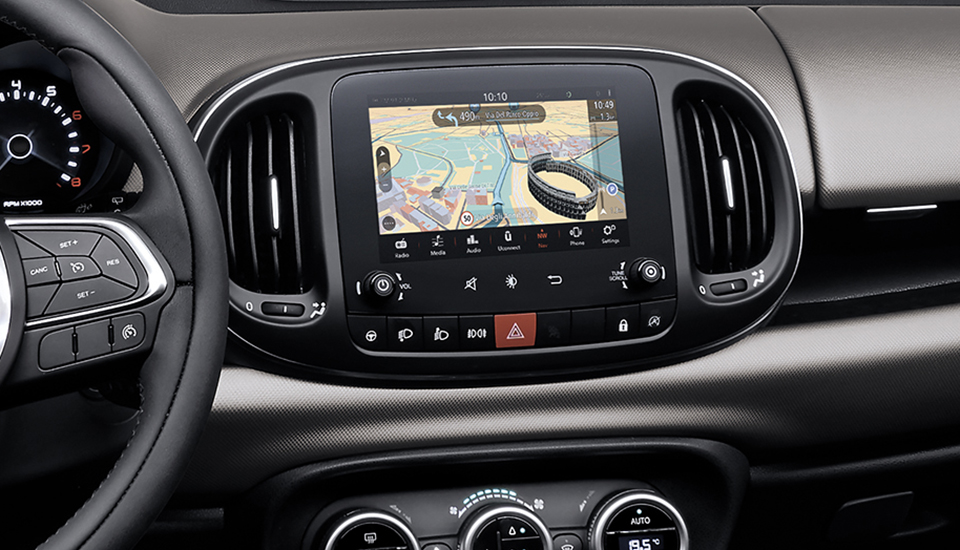 Navigation
TomTom navigation offers the most innovative features, such as IQ Routes® based on the biggest trip database built into the navigation system, so you can find the fastest way to reach your destination.
The new Uconnect 7" HD NAV LIVE exploits all the potentials of the touchscreen with pinch and zoom function for optimal map viewing.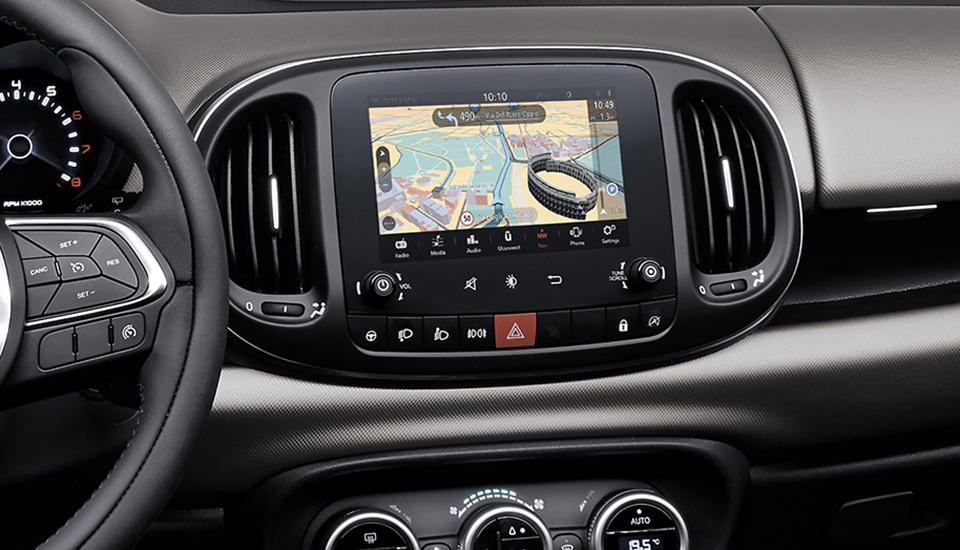 Smart rearview camera
Reversing is now easier than ever thanks to a clearer, sharper image and active grid lines that adjust as the steering wheel is turned.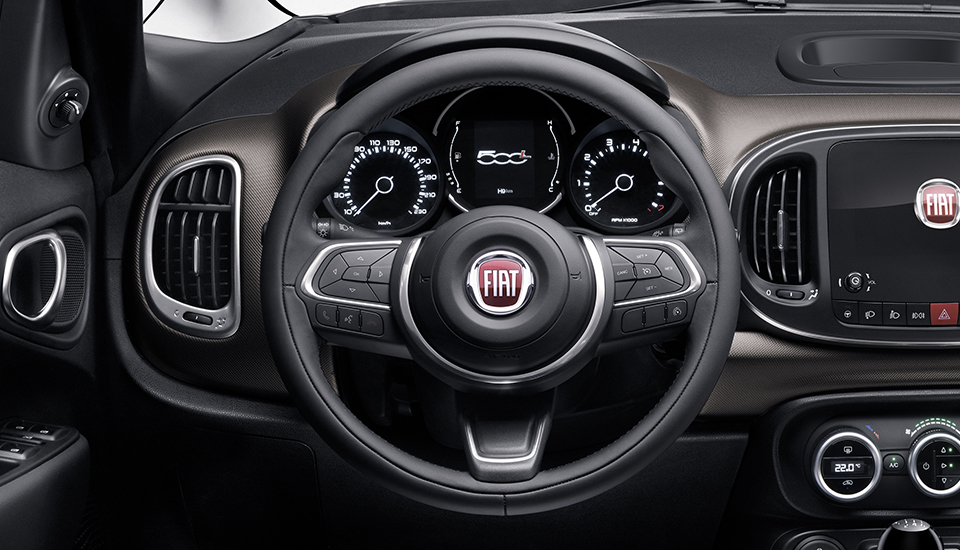 Steering-wheel with integrated controls
The new steering wheel with integrated controls can be used to manage all the main radio and instrument panel functions.
Furthermore, with voice recognition, you can access Siri® Eyes Free* to interact with your iPhone and minimise distractions.
*Siri® Eyes Free requires a compatible iPhone with Siri technology