Abarth
500e
THE NEW ERA OF FUN TO DRIVE
Combining style, electric power and a new powerful sound, the new Scorpion turns energy into emotions, high technology into adrenaline. And sustainability into performance.
NEW ABARTH 500e THE FIRST ELECTRIC SCORPION
Unleash the power of electric with the latest addition to the Abarth family.
Sporty Look (17'' Alloy wheels, Abarth Signature LED Lights, bold bumpers and sharp lines)

Sporty Interiors (Racing-inspired seats with integrated headrest and 3 spoke steering wheel)

New Abarth Driving Modes

Abarth Sound Generator & JBL Premium Audio System*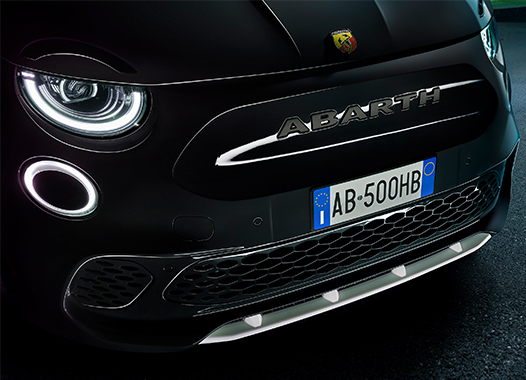 EMPOWER THE FUN
Under the sharp lines of the hood, New Abarth 500e features a powerful 113,7 kW e-motor, a 100% electric engine combined with a 42 kWh lithium-ion battery to cut emissions and enhance fun to drive. And thanks to the 235 Nm instant torque, now you can boost your new Scorpion to experience thrilling accelerations and feel adrenaline rushes on every burning pick-up.
FUN TO DRIVE HAS A NEW ENERGY
7 seconds. That's all it takes to fall in love with the first electric Abarth, the most responsive and exciting Scorpion ever in city driving, that blends performance with the innovation of electric vehicles to reach 62mph before you can even realize it.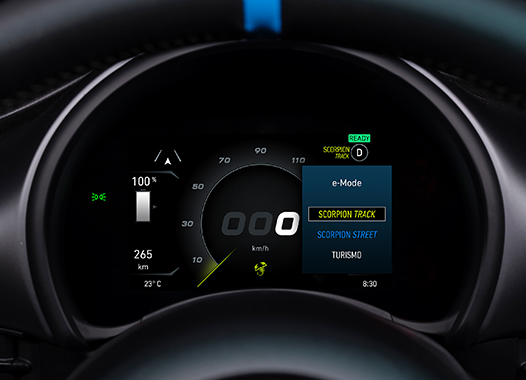 DRIVE BY YOUR OWN RULES
The exclusive driving modes Turismo, Scorpion Street and Scorpion Track suit your driving style, giving you total freedom to fully enhance the sporty set-up and unleash the power of your electric Abarth in every challenge on the road for a unique fun to drive experience.
CONNECTED TO THE ROAD
Why settle for ordinary when you can have a perfect combination of form and function?
With the new 17" Alloy Wheels and their charming design, you can now enjoy a smoother, more responsive ride that will take your experience to new heights.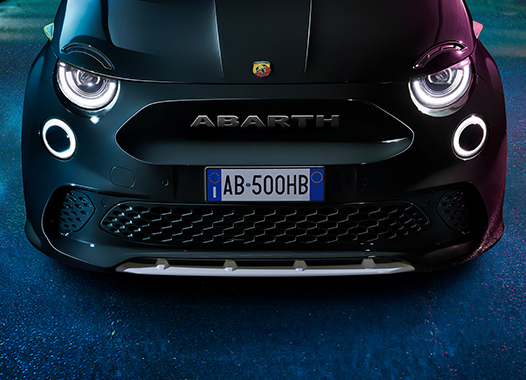 EYE OF THE SCORPION
Rule the road at night with the new Full LED Headlamps with Abarth light signature, that give your Abarth a powerful and wicked look to illuminate your path like never before and always make a lasting impression even in the dark.
SIMPLY ELECTRIFYING
The new scorpion signature is not "just a signature". It's the union of performance with innovation, of fun with sustainability. It's the proof that we can leave our mark on history, as we have always done since 1949.
TECHNOLOGY AT YOUR FINGERTIPS
Take your driving to the next level with Uconnect™ 10.25" Infotainment System NAV, a vast and high-tech display with exciting graphics where you can find real-time information about your Scorpion.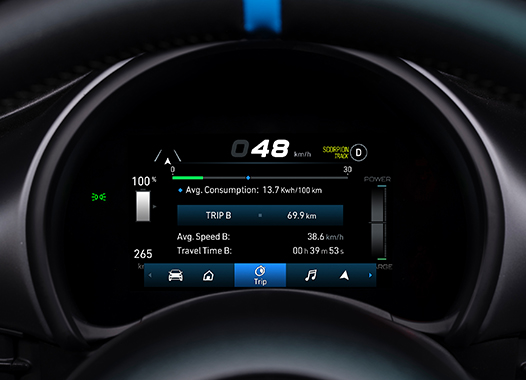 DISTRACTIONS? NO THANKS
From speed to range, from current driving mode to Navigation Maps: you can find them all in the new all-digital cluster that gives the information you need without distracting you from the road.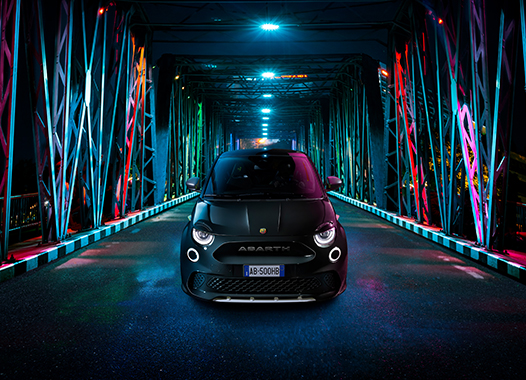 CAN'T STOP ROCKING
Every start, an electrifying concert. Let your performance be heard with the specific "Rock'n'Roar" AVAS Sound, designed with Abarthists to unchain the bold spirit of the Scorpion every time you start the advanced e-motor.
ADAS
Experience the ultimate fun to drive without worries with New Abarth 500e and its Advanced Driver Assistance Systems (ADAS) which includes: Autonomous Emergency Brake, Lane Keeping Assist, Attention Assist, Traffic Sign Information, Intelligent Speed Assist, E-call and breakdown call.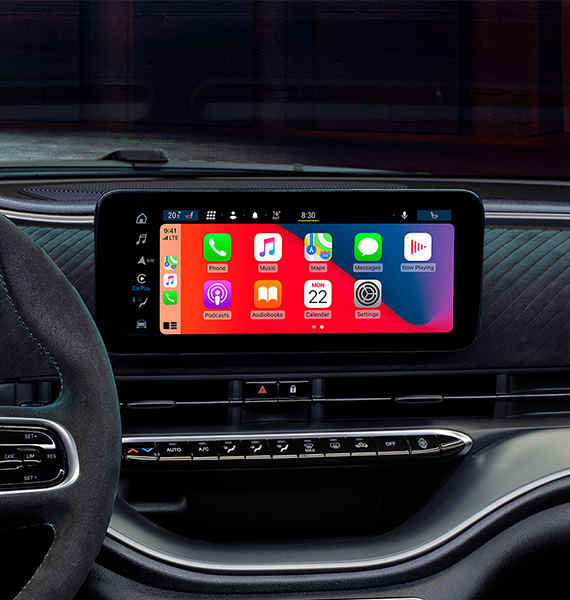 WIRELESS APPLE CARPLAY®
New Abarth 500e is compatible with Apple CarPlay®. Connect your iPhone to the Uconnect™ Radio Touchscreen 10.25" and control Apple CarPlay® with Siri voice control or the touchscreen to manage your apps and contacts, get directions, send and receive messages, make calls and listen to your favorite songs without wires: everything you need is just a tap away!

CarPlay, iPhone and Siri are registered trademarks of Apple inc.
Click here to explore the compatible devices.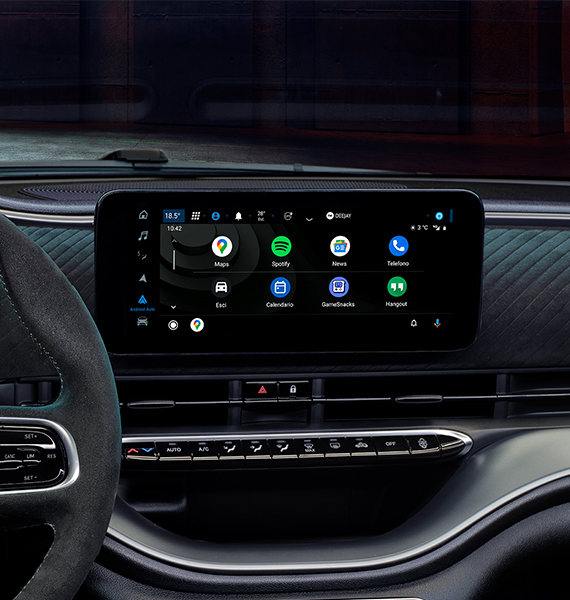 WIRELESS ANDROID AUTO™
The new electric Abarth is also compatible with Android Auto™: just connect wirelessly your smartphone to the intuitive Android Auto™ interface to manage your favorite apps, music, contacts, explore new places with Google Maps, receive traffic conditions and much more on the advanced Uconnect™ Radio Touchscreen 10.25".

Google, Google Play, Android Auto are trademarks of Google LLC.  To use Android Auto on your car display, you'll need an Android Auto compatible vehicle, an Android phone running Android 5.0 or higher, and the Android Auto app.  To use Android Auto Wireless you will need to have one of the following:
• Any smartphone with Android 11.0 and a 5 GHz Wi-Fi network. In the European Union, smartphones must meet additional regulatory requirements in order to use the 5 GHz Wi-Fi network in the car.
• Google or Samsung smartphone with Android 10.0.
• Samsung Galaxy S8, Galaxy S8 + or Note 8 phone running Android 9.0.
Note: Wireless Android Auto  is not available in Israel.
Click here to explore the compatible devices
PERFORMANCE PAGES
Take a keen eye on your performance as you unleash fun to drive with the advanced Performance Pages: Torque Management gives you real-time information about the torque conveyed to the wheels, Drag Race Timers keep track of acceleration and braking performances, while Technical Gauges allow you to always have on hand the engine power, the battery's status, temperature and voltage of 12V battery.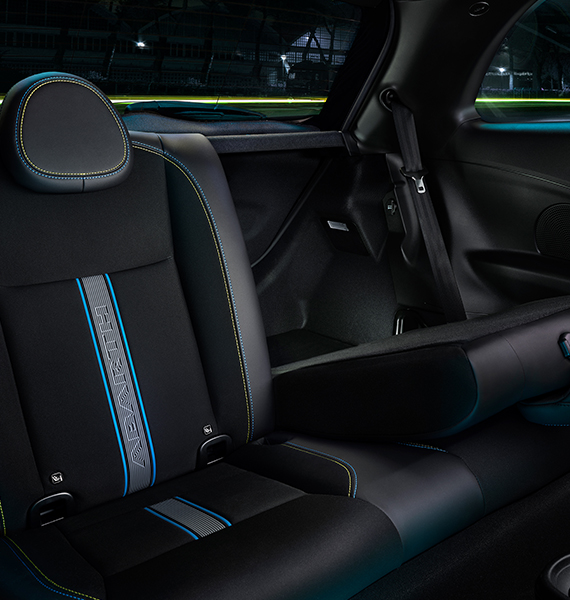 50/50 REAR SEATS SPLIT
More space for your adventures. Folding down one or both seats, you can now create a variety of different configurations to maximize your cargo space and make your new Scorpion perfect for every drive, from weekend getaways to big shopping trips.
ONE PEDAL DRIVING
Activating the Turismo or Scorpion Street Mode, all you need is a pedal to experience the ultimate performance. Every time you lift your foot, the car proportionally decelerates and recovers kinetic energy that is converted into electricity to recharge the battery, contributing the 164 miles range and often making the brake pedal unnecessary: basically, the only case where we like to slow down.
CHARGING MODES
With Abarth and its charging modes, it's easy to have the real never-ending fun. Are you at home? Plug your Abarth into the home socket. Are you away? Plug it into the public charging stations. Are you in a hurry? Use the fast charge to get 80% of the range in only 35 minutes!
SEATS WITH INTEGRATED HEADREST
Combining high-quality fabric and Tecnoprene, the sporty seats create a comfortable seat that will keep you firmly in place, whether you're taking tight corners or cruising down the highway. And with the Scorpion embossing on the integrated headrest, you will do it in absolute style.

ABARTH 500e TURISMO PERFORMANCE AT ITS FULLEST.
Get ready to drive the highest expression of pure electric power, providing Performance, with a unique Style and the original Abarth Sound.
• Abarth Sound Generator
• 18" Diamond-Cut Alloy Wheels
• Alcantara Premium Interiors
HIGH TECHNOLOGY, HIGHEST PERFORMANCE
Elevate your ride and stay ahead of the game with an impressive array of cutting-edge features designed to keep you connected and in command on the road.

• 360° parking sensors
• Rear view camera
• Blind spot warning
• Automatic high/low beam
• Wireless charging pad
• Keyless entry with Dedicated Wearable key
• Electrochromic internal mirror
• Exterior mirrors with defrost
• One touch-windows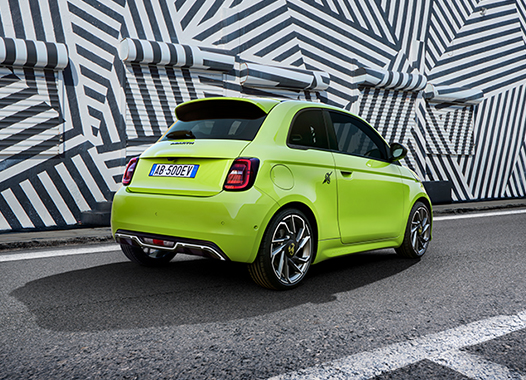 LET'S MAKE IT LOUD
Abarthists know that sound is not just a detail, but a key aspect of driving. Because true performance makes itself heard, both inside and outside.

• Sound Generator
• Premium JBL Audio
DESIGNED TO LEAVE SPEECHLESS
Eye-catching and sporty details, pure Abarth style both inside and outside, premium features and Alcantara… in a nutshell, all you need to turn any head.
• Alcantara sporty seats
• Alcantara embossed dashboard
• Alcantara and Leather steering wheel
• Fixed glass roof (Hb only)
• 18'' Diamond-Cut Alloy Wheels
• Chromed Kick plate
• Sporty pedal cover
• Privacy glass
GET READY FOR A SMOOTH RIDE
Experience unrivaled comfort aboard New Abarth 500e, the perfect match of performance and convenience to let you enjoy every journey in smoothness.

• Heated Front Seats
• Heated Windshield
• Center Armrest with central console
• Driver Seat Height Adj.
HEAR THE PERFORMANCE
Let yourself be won over by the new Sound Generator, which evokes the classic Abarth roar making it even more powerful and iconic. You can choose to turn it on or off whenever you want, but with this innovative sound system, fun to drive is always on.
FAST AND STYLISH
New Abarth 500e is equipped with the exclusive 18" Diamond-Cut Alloy Wheels, that bring you closer to the road with their holding performance and the aggressive, sharp design. Simply unmistakable.
EACH SCORPION HAS ITS OWN THRONE
The new sporty seats' design is enriched with an embossed scorpion in Alcantara, a premium racing-derived material that gives a dark sporty look and the highest comfort thanks to the integrated headrest, obviously with a scorpion lasered on it.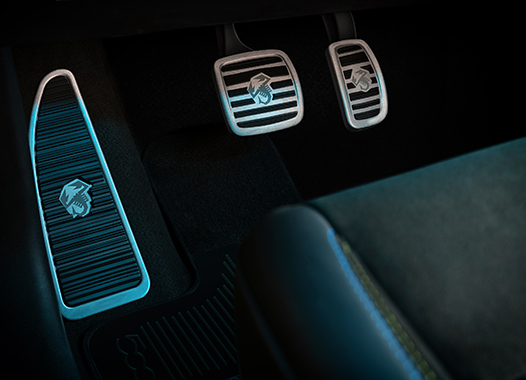 STEP ON THE PEDAL
For those who seek daily races and adrenaline even in the city. The sporty pedal cover with engraved logo brings to the road the track vibes and the reactivity of the cars that made Abarth's history.
ALCANTARA AND LEATHER SPORTY STEERING WHEEL
High-quality leather with Alcantara inserts, the Scorpion logo and the upper blue sign embellish the three-spoke sporty steering wheel, which takes inspiration from the racing world to give you the thrills of the challenge at the first touch.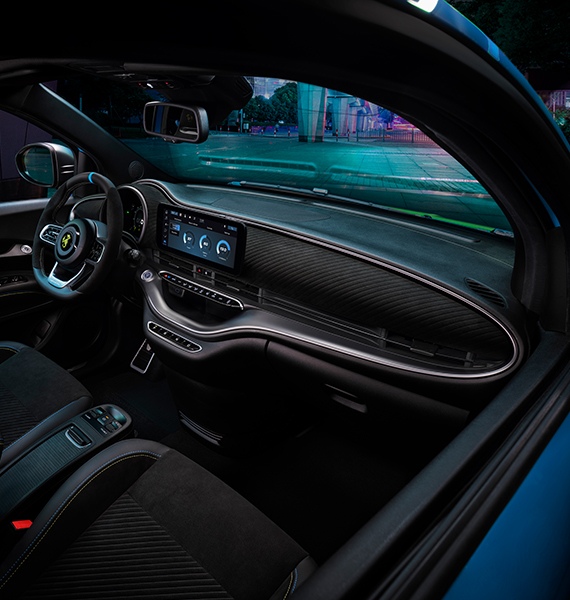 ALCANTARA DASHBOARD*
Style and sportiness find their fullest expression aboard the new Scorpion: the Alcantara dashboard offers a unique feel that combines a lush aesthetic with the functional design, perfectly matching the inserts of the steering wheel and the sporty seats.

* Smooth Alcantara Dashboard for RHD markets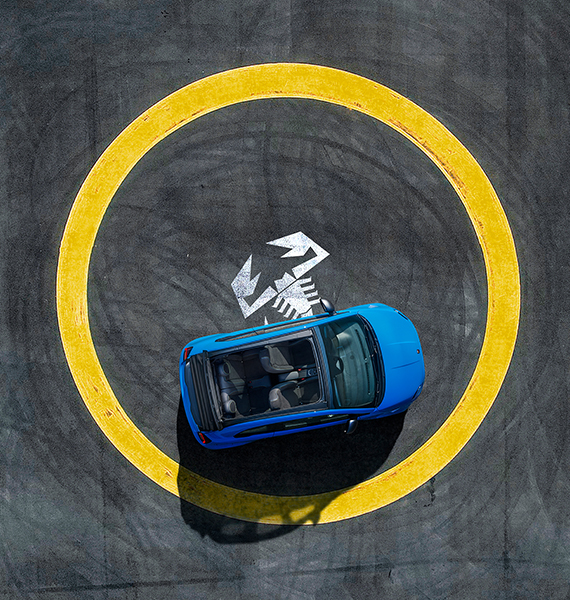 360° DRONE VIEW SENSORS AND REAR CAMERA
New Abarth 500e is perfect for those who want to achieve every challenge, including parking. Thanks to the advanced 360° Drone View Sensor System and the ultra-high-definition rear camera, which shows obstacles and the car's trajectory on the 10.25" screen, the perfect parking is won at the start.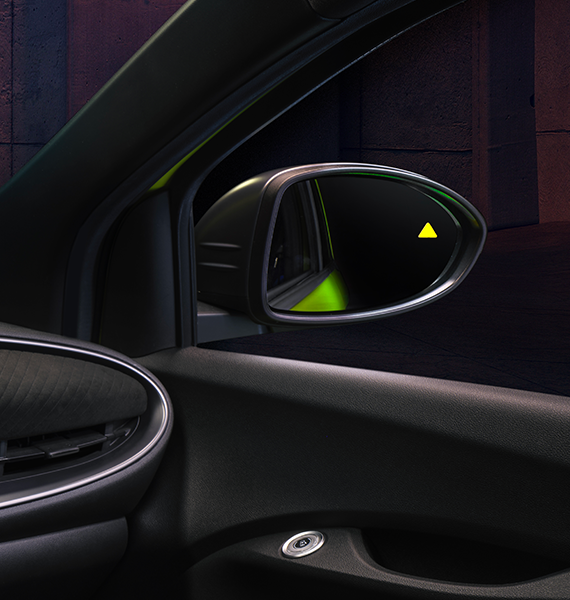 BLIND SPOT WARNING
Stay one step ahead with the Blind Spot Warning system, ensuring you can enjoy the ride while staying alert and protected on every trip: every time you are about to overtake, your Scorpion detects any other cars in the blind spot, warning you with a signal.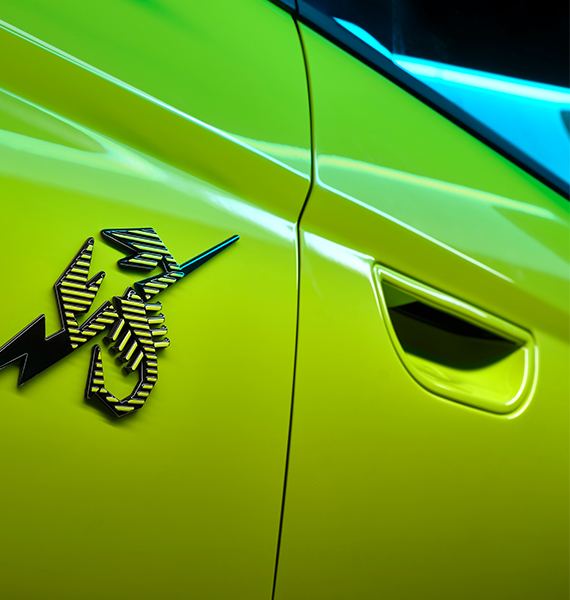 KEYLESS ENTRY WITH DEDICATED WEARABLE KEY
For those who spend hours looking for keys: relax, keep them in your pocket. Thanks to the Keyless Opening System, all you have to do is move close to your Abarth and press the handle's button.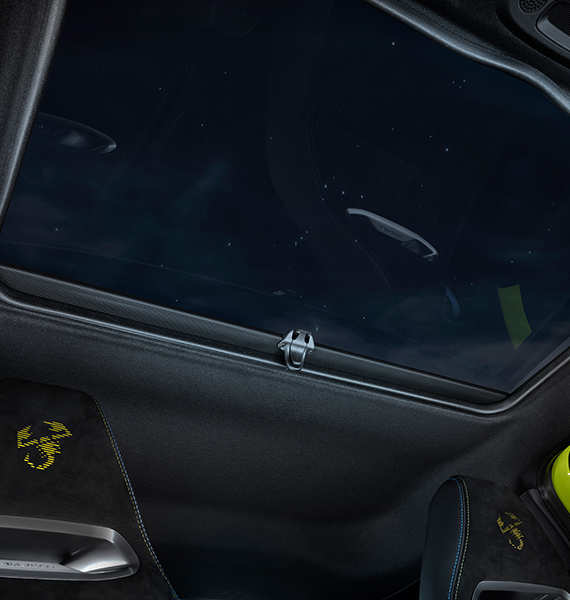 FIXED GLASS ROOF
A thrilling exterior view. Whether you're cruising through the city or hitting the open road, the New Abarth 500e's glass roof is sure to take your breath away, providing unobstructed views of the sky to bring the beauty of the outside world right into the car.
CHROMED KICK PLATE
When it comes to style, the Scorpion knows how to catch the eye. The shiny chromed kick plate with Abarth lettering is a statement of craftsmanship and attention to every detail, a classy and sporty touch that adds even more character to your new Abarth's design.

JBL PREMIUM AUDIO
A WHOLE NEW SOUND
Enjoy the experience of a powerful sound featuring clean highs, roaring bass, and smooth mids with the new top-notch JBL Premium Audio System. And thanks to its Virtual Center Algorithm and the Speed Adjusted Volume, the system will smartly react to your drive providing an immersive and dynamic sound that will make you rediscover your favorite songs all over again.
ELECTRIC MOBILITY
A choice that enhances environment and performance.
Got a question? - click below and a member of our friendly sales or service team will get back to you.